Welcome to Eden School, a special school for young people aged 8-16 with Social, Emotional and Mental Health needs (SEMH).
Eden is a life-transforming school where we provide the best for young people in Blackburn with Darwen and surrounding areas who have complex social, emotional and mental health needs.
Staff at Eden require exceptional skills to be able to respond appropriately to the challenges they are presented with. They are confident and skilled in building positive relationships that help to break down barriers, build self-esteem and challenge disaffection.
At Eden we aim to ensure that we give pupils the necessary support to improve their confidence, self-esteem and enable them to become successful learners in school and prepared for their future working lives.
Pupils are taught in small groups, where they study the core curriculum and can receive the extra support they require. Students are then able to make good progress as staff can ensure that learning is tailored to individual student needs.In addition to the core curriculum, we provide rich and varied curriculum opportunities ranging from vocational courses, academic programmes and programmes that support pupils' personal and social development. You can view our full curriculum at other parts of this website.
Please enjoy exploring our website to find out more about our school.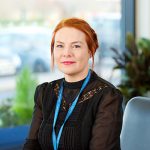 Jen Ashworth
Headteacher
Eden School values the input and opinions of all parents. Please submit your review of Eden on OFSTED's Parent view website using the link below.