Vocabulary
At Eden, we recognise the complexity of words encountered by pupils in lessons and therefore the need to explicitly teach these more challenging words so that pupils are equipped with the skill to use them confidently in a variety of contexts. We understand the impact that vocabulary has on quality of work, progress, and the ability to express ideas and concepts. Each subject has, through curriculum thinking documentation, a published vocabulary list that allows pupils to speak and write as disciplinary experts. This list in also included on knowledge organisers along with clear definitions providing a topic specific word bank for each pupil.
To support teachers in delivering high quality vocabulary teaching we focus on the three consistent pillars of practice;
Explicit vocabulary teaching
Incidental vocabulary learning
Cultivating 'word consciousness'
Explicit vocabulary teaching
Explicit vocabulary teaching provides a vital boost to our pupils' vocabulary development. Staff are aware of the importance of choosing the right words to teach using the Tiers of Vocabulary model: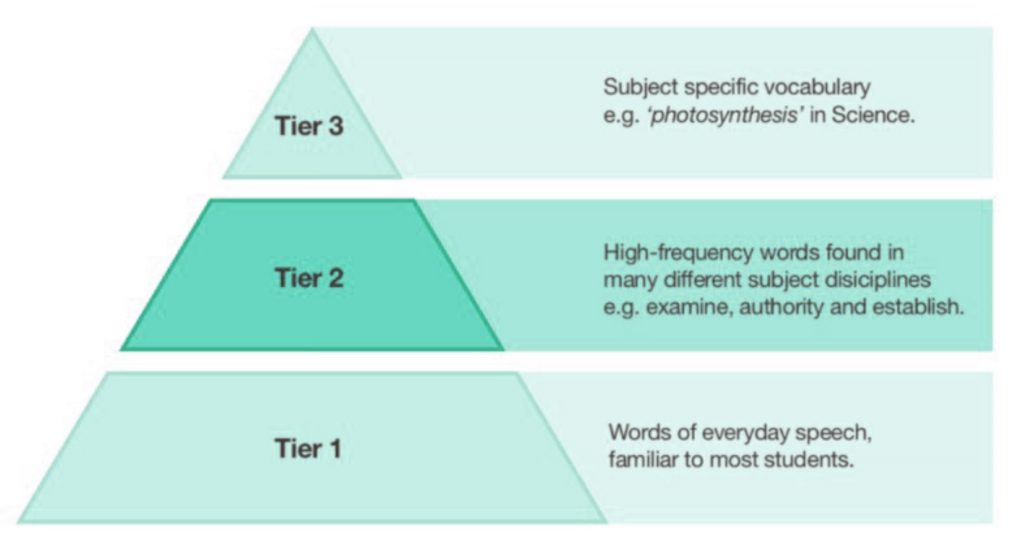 This awareness of choosing vocabulary to be learnt, making rich connections that build pupils' vocabulary schemas has been strengthened by practical approaches to teaching these individual words and phrases such as knowledge organisers, vocabulary mats and dual coding.
Incidental vocabulary learning
Reading rich texts, both in the classroom and at home, is critical for language and vocabulary development. When reading complex texts, pupils can struggle to learn new, unfamiliar words, so teachers encourage them to record vocabulary for later discussion.
To maximise vocabulary learning, structured daily reading opportunities are embedded in all groups including opportunities to listen to the teacher as an expert reader as well as reading independently. Topic vocabulary is displayed in each room and regularly referred to by staff, modelling use in different contexts.
Cultivating 'word consciousness'
We aim to inspire a love of language in all our pupils by developing their curiosity about what words mean, where they are from and their connections. Through the teaching of morphology and etymology we encourage pupils to become word detectives; leading their own language development.